If you're looking for a comprehensive set of icons for your web development and web design projects, then the Free Startup Line Icons Set is a must-have. With this set, you'll get access to a wide range of icons that can be used in a variety of applications. Including mobile apps, presentation templates, print templates, promotional materials, and infographics.
This collection includes a range of icons that are perfect for any project. For example, you'll find icons for a microscope, presentation, telescope, rocket, compass, briefcase, charts, atom, medal, idea lamp, target, strategy, cup, brain, clock, headphones, microphone, coin hand, student hat, puzzles, a cup of tea, career, chart window, clock, piggy bank, magnifying glass search, hand chart, vacancy recruitment, hand thumbs up down, worker, personnel, recruiting, lifebuoy, binoculars, tick, license, globe, mountains, chess, email, contacts, service center, support, pin map, chat bubble, security shield, case, insurance, devices, lawyer gavel, site structure, site design, typewriter, calendar, programming, cloud technologies.
Whether you need an icon to represent a specific concept or simply want to add some visual interest to your project, this collection has everything you need. The thin line and minimalistic design of these icons make them versatile and easy to use in any project.
Overall, These 84 Thin Line Minimalistic Icons are a valuable resource for anyone in the web development & web design fields. With its wide range of icons, you'll have everything you need to create professional and engaging projects that will impress your clients and customers. So why wait? Get your hands on this icon set today and take your projects to the next level!
Free Startup Line Icons Set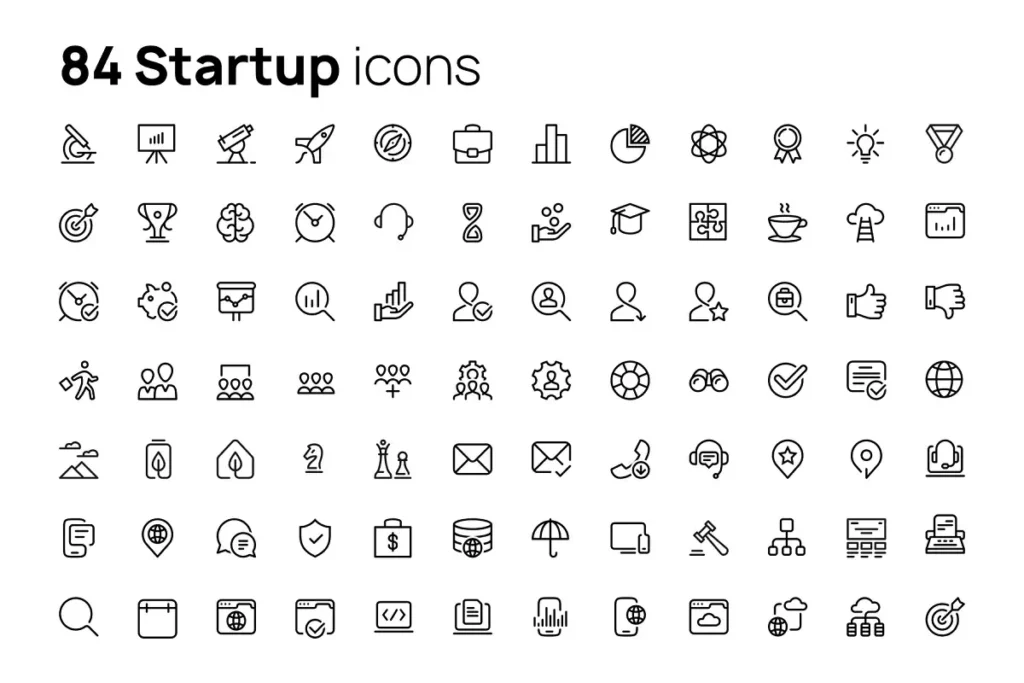 Format: SVG, EPS, PNG, PSD, PDF
Size: 5.41 MB
Designer:
AIWD
License: Free for personal use