If you're looking for a unique and eye-catching texture to add to your design projects, look no further than this stunning pack of burnt edge paper textures. This pack is one of the most inclusive ones ever created, and it's sure to leave you impressed.
Unlimited downloads of 15+ million creative assets.

What sets this pack apart from others is the fact that it's entirely hand-created using white paper, cardboard, and kraft paper. This means that each texture is unique and has its own character and charm. The designers who created this pack spent a considerable amount of time crafting each texture to ensure that it was of the highest quality.
Another standout feature of this pack is that it consists of transparent PNGs. This means that you can easily overlay these textures onto your designs without having to worry about any unsightly backgrounds. Plus, the transparency of these PNGs makes them incredibly versatile, allowing you to use them in a wide variety of design projects.
What's more, these textures boast an incredibly high resolution (4K), making them perfect for both digital and print projects. Whether you're creating a website or a brochure, these textures are sure to make your design stand out from the crowd.
Overall, if you're looking for a top-quality, hand-crafted texture pack that's both versatile and visually stunning. This burnt-edge paper texture pack is an excellent choice. And best of all, it's completely free to use. So you can add it to your design toolkit without breaking the bank.
100 Free Burnt Edge Paper Textures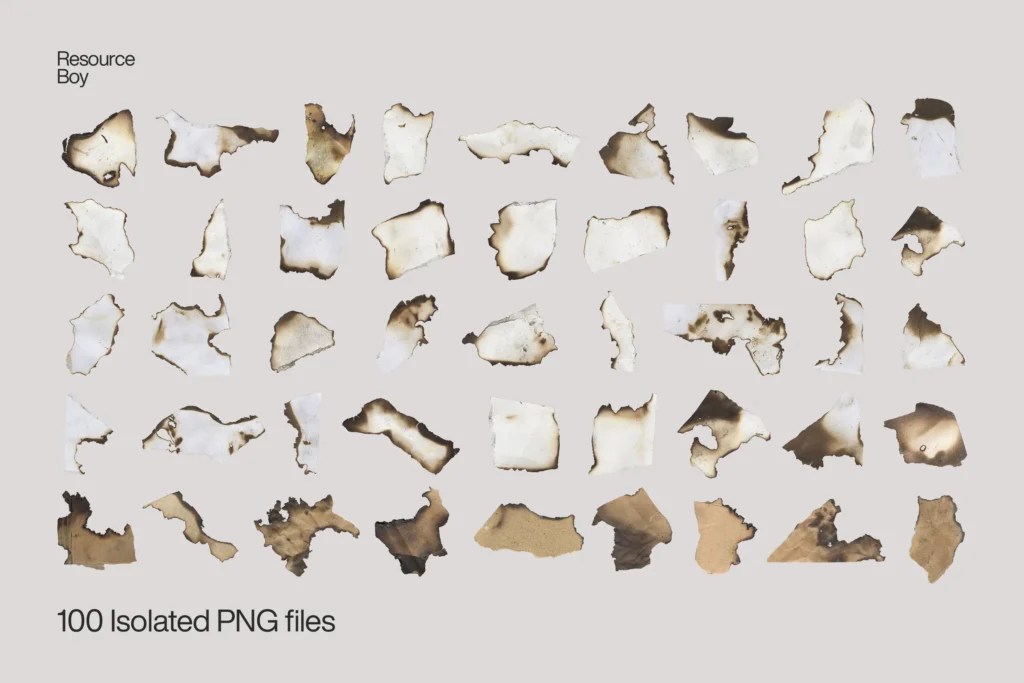 Format: PNG
Size: 841 MB
Designer:
Resource Boy
License: Free for personal and commercial use